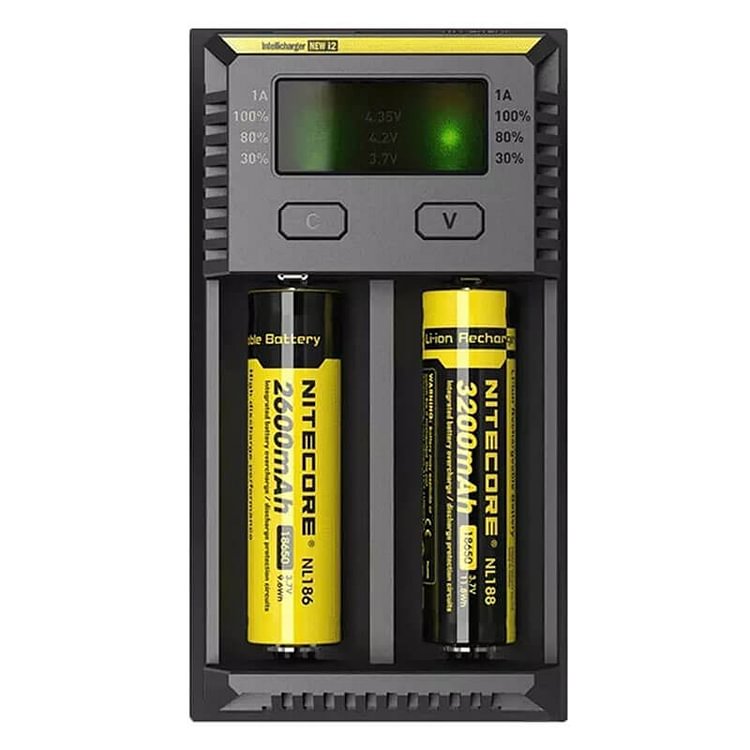 The Intellicharger NEW i2, an upgraded edition of the i2, is a universal, automatic smart-charger compatible with almost all types of rechargeable batteries thus eliminating the need to own several chargers. The NEW i2 is able to charge the batteries twice as fast as the i2 (up to 1A). With the Active Current Distribution (ACD) Technology. the NEW i2 automatically identifies battery types and capacity, and applies an appropriate charging current based on automatic detection or manual setting. It can even restore your depleted IMR battery. With automatic detection of non-rechargeable batteries, safety is out of problem on the NEW i2 Additionally, yellow and red power/charging status indicator lights could visibly indicate battery status and charging process. NEW i2 it's as simple as insert, detect, and charge.
About This Item
This charger is able to automatically identify Li-ion, Ni-MH and Ni-Cd rechargeable batteries, compatible with 1.2V, 3.7V, 4.2V, 4.35V batteries.
Each of the two battery slots monitors and charges independently.
3 Color LED displays charging progress for each battery, the LEDs indicate the charging status of each battery in.
Automatically detects battery status and selects the appropriate voltage and charge mode.
After charging the Intellicharger switches i2 automatically. Capable of charging 2 batteries simultaneously.
Reverse polarity protection and short circuit prevention.
Item Features
Twice the charging speed of the i2 charger
Active Current Distribution (ACD) Technology
Compatible with 1.2V, 3.7V, 4.2V, 4.35V batteries
Charging program optimized for IMR batteries
Automatic current selection based on battery capacity
Automatic detection of non-rechargeable batteries
Capable of charging two batteries
Two charging slots charge and control independently
Automatically detects battery power status and displays charging progress
Automatically stops charging upon charging completion
Reverse polarity protection and short circuit prevention
Over-discharged battery activation
Overtime charging protection
Designed for optimal heat dissipation
Made from fire resistant, flame retardant PC material
Certified by RoHS, CE, FCC and CEC
Input
AC 100~240V 50/60Hz 0.25mA (max) 8W
DC 9~12V
Output
4.35V±1%/4.2V±1%/ 3.7V±1%/1.48V±1%
500mA×2/1000mA ×1
Compatible with
Li-ion/IMR/LiFePO4:
10340, 10350, 10440, 10500, 12340, 12500, 12650, 13450, 13500, 13650, 14350, 14430, 14500, 14650, 16500, 16340(RCR123), 16650, 17350, 17500, 17650, 17670, 18350, 18490, 18500, 18650, 22500, 22650, 25500, 26500, 26650
Flat-topped Batteries: 18700, 20700, 21700
Ni-MH(NiCd):
AA, AAA, AAAA, C, D
Dimensions: 132mm×70mm×35mm
Weight: 126g (without batteries and power cord)
Packing Included
1 x Nitecore NEW i2 Battery Charger (Battery not included)
1 x Charging Cable
1 x User Manual
Warm Tips
The charger is restricted to charging Li-ion, IMR, Ni-MH/Ni-Cd rechargeable batteries only. DO NOT use the charger with other types of batteries as this could result in battery explosion, cracking or leaking, causing property damage and/or personal injury.

Please charge batteries in accordance with the specifications on the back. Do not charge a battery pack with the charger.
The shipping time begins from the date you placed your order. It usually takes 1-5 business days to process your order. Once we've processed it, we can then ship it. We'll send you a notification email with shipping and tracking information once it's dispatched. You'll then be able to track your parcel's journey to your front door.
We currently offer two shipping speeds within the most Countries:
Standard Shipping option which takes about 7-25 business days to arrive and the carrier will be automatically selected based on the shipping address.

Additionally, we offer 3-8 business days Expedited Shipping starting at US$19 and plus additional weight charge is automatically calculated based on each selected product. The final price for both of these options will be given at checkout and is determined by order volume and final destination.

*Receiving time = Processing time + Shipping time (Business days)


Additional Information
We only ship and deliver from Monday to Saturday (excluding holidays) and that all orders placed will be arranged to be issued until 3 am ET.
All delivery times are estimates and Vrigoo is not responsible for delays due to unpredictable factors (weather, delivery carrier factors, customer error, holiday-related delays) or any other unforeseen factors.
After the item is shipped, you can get tracking information in order details and then follow the guideline to check the shipping status.
For more information about delivery, please view our Shipping Policy.
30-Day Money-Back Guarantee
We offer refunds on unused item(s) in good condition. You have 30 days, from the day you received order, to submit a return and refund request.

When you receive item(s) that is defective, incorrect, or incomplete, please contact us immediately so we can make it right. Once we accept your return request, our customer service will be in touch to start processing your request within 5 working days. Then you can post the item back to us.

If you return the item(s) for personal reasons, the return freight is at your expense. Please note that products must be returned in the original packaging and will not affect the second sale. Once the item arrives back at the warehouse for inspection, the refund process will begin.
Hassle-Free Exchange
A hassle-free exchange is ready if it is in stock. You can exchange your item(s) within 24 hours you placed the order and before your package was shipped out. If your package has been shipped out, we will not accept your replacement request, but you can refuse to accept the package when it arrive.
How do I cancel an order?
For canceling an order which has not been processed, please contact us as soon as possible. Orders whose parcels have already been processed can not be canceled.


For more information, please view our Returns Policy.